imDocShare Co-authoring App – An Overview
imDocShare offers real-time collaborative co-authoring capabilities!
imDocShare Teams app enables users to co-author Office (version 2013 or above) documents saved in iManage right within Microsoft SharePoint & Microsoft Teams using Office Client like Word or Excel on their laptop.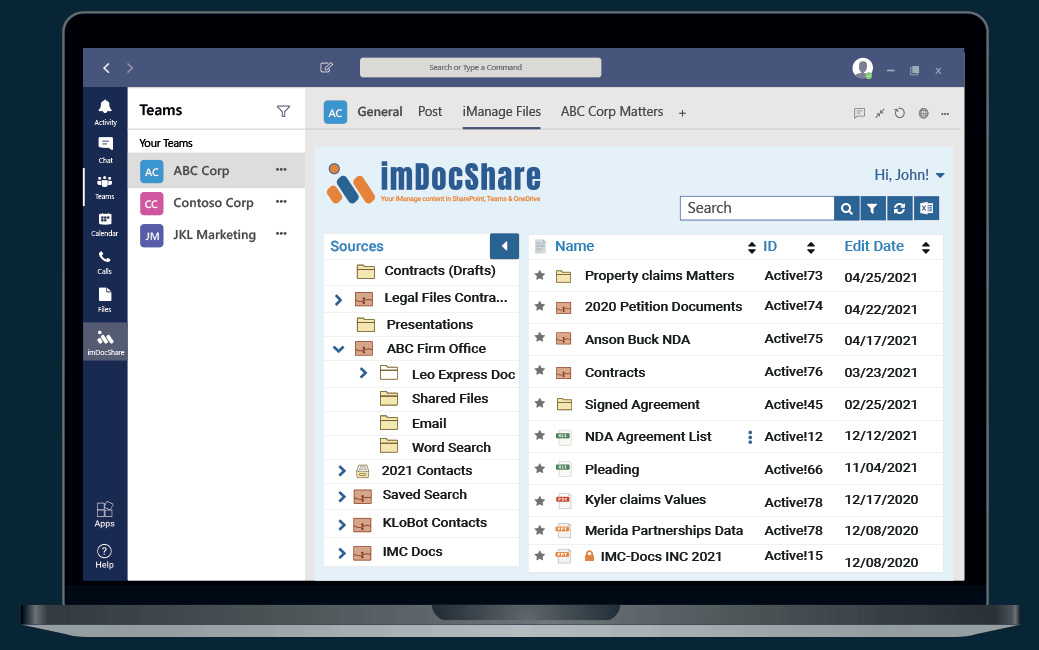 imDocShare Co-authoring app primarily helps to overcome the challenges including co-authoring, versioning, and editing of Office documents stored in iManage. imDocShare Co-authoring app eliminates the manual copy-pasting of files to co-author and reduces the chances of errors and risks associated with data breaches. This imDocShare co-authoring functionality adds more value to industries like Legal as they need to deal with many stakeholders, which hampers the team productivity as well as billable hours.
Feature Benefits
imDocShare Co-Authoring offers several benefits to both a firm as well as end-users in terms of balanced security and streamlined workflows.
Users can Collaborate on Microsoft Office documents stored in iManage from within Microsoft Teams with real-time co-authoring. imDocShare Co-authoring is supported on modern file formats including .docx (Word), .pptx (PowerPoint), and .xlsx (Excel))
With imDocShare Co-authoring functionality, multiple users can work together on an iManage document at the same time in real-time, and share ideas more effectively. This helps firms to overcome several challenges related to contracting and promotes team productivity.
imDocShare is a tech-savvy approach as it allows multiple users to work together on a document. So, users can create Agreements and Contracts quickly with imDocShare Co-Authoring of Office documents stored in iManage. This eliminates the stressful review cycles, document creation time as well as review meetings, and the risks associated with contract sharing. Thus, the imDocShare Co-authoring app allows users to create and review documents in a controlled and efficient way and further helps legal teams manage deadlines, restrict downloads, and minimize the risk associated with contract breaching.
imDocShare Co-authoring app facilitates users an effortless document movement between Microsoft Teams & iManage. The key aspect of Co-authoring is allowing you to share your documents to collaborate and co-author with others. Users can readily co-author without interfering with each other's updates. Moreover, this allows Firms to prevent unintentional multiple versions of documents by reducing the need to download & share documents manually but allowing them to co-author the same document at the same time. The Co-authoring session updates are audited as a part of the iManage Document history property, and this enables tracking version updates performed by Co-authors. With content distributed across multiple sources, the imDocShare solution enables to access and document the correct versions of documents.
imDocShare goes beyond co-authoring by allowing users to quickly sync co-authored content. In simple, users can easily synchronize the documents co-authored offline from the iManage DMS in Microsoft Teams back to the iManage workspace/folders with the quick imDocShare Sync app.
With the imDocShare Co-authoring app, Firms can improve team collaboration and productivity.