How to eliminate broken sync jobs and error-prone manual copy processes related to showing iManage content in SharePoint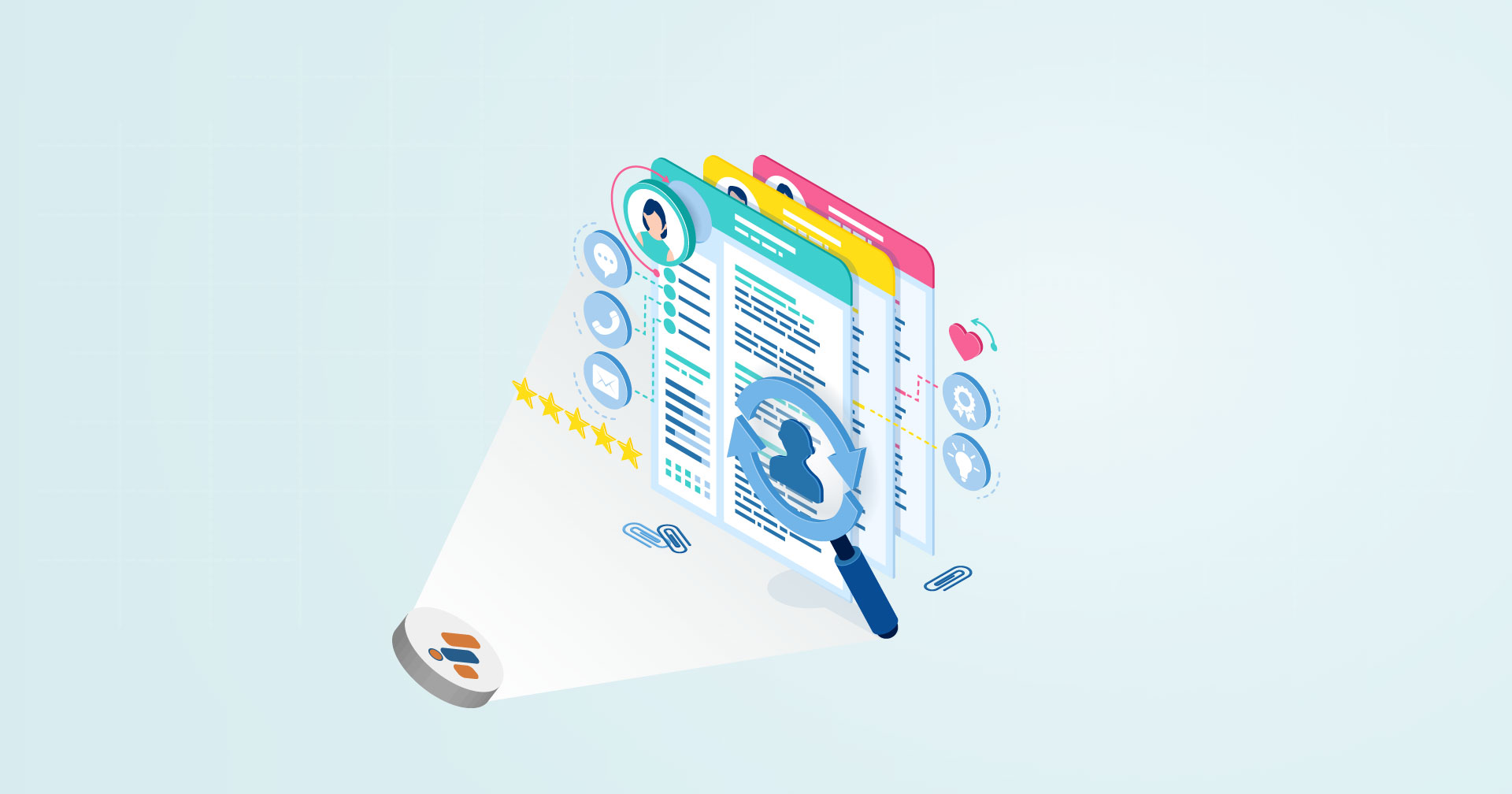 SharePoint- An organized document management tool for a growing business
SharePoint- continue to see tremendous adoption
SharePoint is a web-based collaboration and document management platform developed by Microsoft for businesses around the world. Used by more than 190 million users globally, SharePoint is a highly flexible tool with several distinct functionalities.  
Over 250,000 organizations, including 85% of Fortune 500 companies, actively use SharePoint Online as a part of Office 365.1
SharePoint can also be used as an employee intranet where users can share files, edit documents, and foster teamwork. SharePoint further can be customized in several ways depending on business requirements.  
Barriers associated with effective document sharing
Although document management platforms continue to gain momentum, workers still find it difficult to access or edit the information stored on other portals within SharePoint. iManage work 10 is one such document and email management platform, gaining momentum due to its ease of use.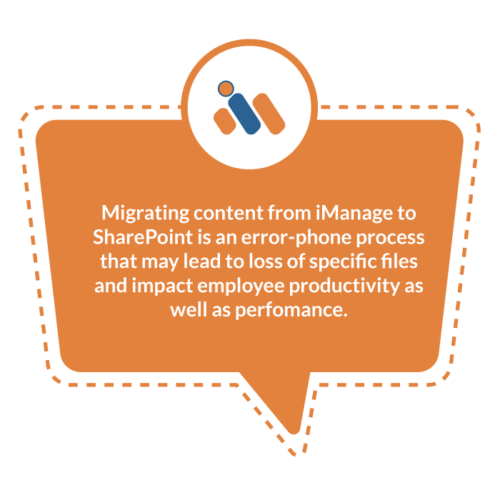 iManage is a prominent provider of work product management solutions and is committed to transforming the way professionals work. It empowers organizations with a high level of security as well as governance on critical business data and provides its users with enhanced search capabilities.   
Accessing or editing the iManage content in SharePoint often becomes difficult for firm employees as they need to crawl several times over both the portals. Few other issues related to unorganized content and migrations present organizations with a set of challenges.  
Few other challenges related to viewing iManage content in SharePoint
These challenges make integrating iManage with SharePoint more substantial.
imDocShare - Integrating iManage with SharePoint
Integration between iManage and SharePoint is complex, but a classic and innovative approach to it is imDocShare.  
imDocShare is a robust solution that an organization needs to overcome the barriers associated with effective document sharing. It further provides users with secure collaboration and seamless access to iManage content within SharePoint. iManage and SharePoint integration eradicate the time-consuming manual process of extracting content from iManage, copying that content, and then pasting it in SharePoint.  
Integrating iManage with SharePoint allows users to access a wealth of information within SharePoint itself, which makes the content instantly actionable for users. The integration facilitates users with a single unified search directory and in-depth knowledge repository, which results in synchronized documents and content accuracy. The integration can further save the workers time, enhance organizational efficiency, and boost productivity.
imDocShare SharePoint app- empowering organizations to create a connected workplace
imDocShare is a fast and reliable solution that provides users with the ability to live view and edit iManage content within SharePoint and other web applications. imDocShare rapidly deploys as a SharePoint add-in to an organization Microsoft 365 SharePoint Online or SharePoint on-premise by easily configuring imDocShare WebParts on a SharePoint page.  
imDocShare SharePoint app empowers users to perform a contextual or deep search to look for iManage content right in SharePoint. It eliminates the need for manual syncing or copying iManage content with SharePoint, which further reduces the chances of a version mismatch between iManage and SharePoint.  
imDocShare ensures content governance and empowers users to view iManage content, including Saved Searches, Documents, and Filters, securely within SharePoint.
This robust solution comes with a set of features that include display iManage content, download, live-preview document, view on iManage, favorites view, check-out & check-in, rename a file, delete, display search folders, and recent documents or workspaces.  
Additionally, the imDocShare SharePoint app diminishes content migration challenges from iManage to SharePoint and provides users a more secure environment for content sharing. The app empowers firm employees to easily locate the information stored in iManage in SharePoint without the need to perform separate searches across multiple repositories. imDocShare SharePoint app facilitates organizations to minimize the crawl times and ensure elevated employees' performances.
Easily View iManage content within SharePoint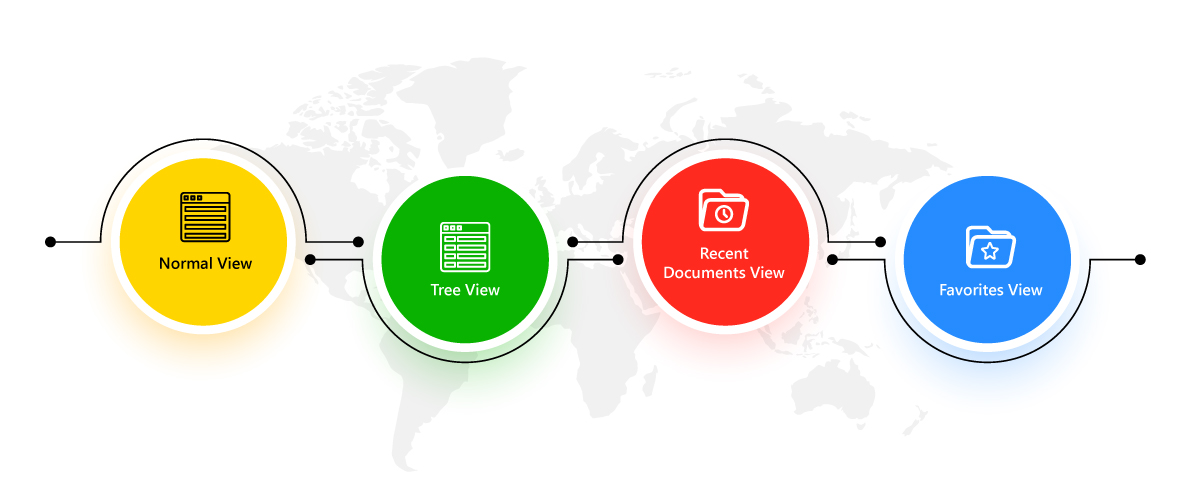 imDocShare comes with a simplified interface for non-technical users and can directly be deployed from the SharePoint Store app. For additional information regarding the imDocShare SharePoint app, click here. Get in touch